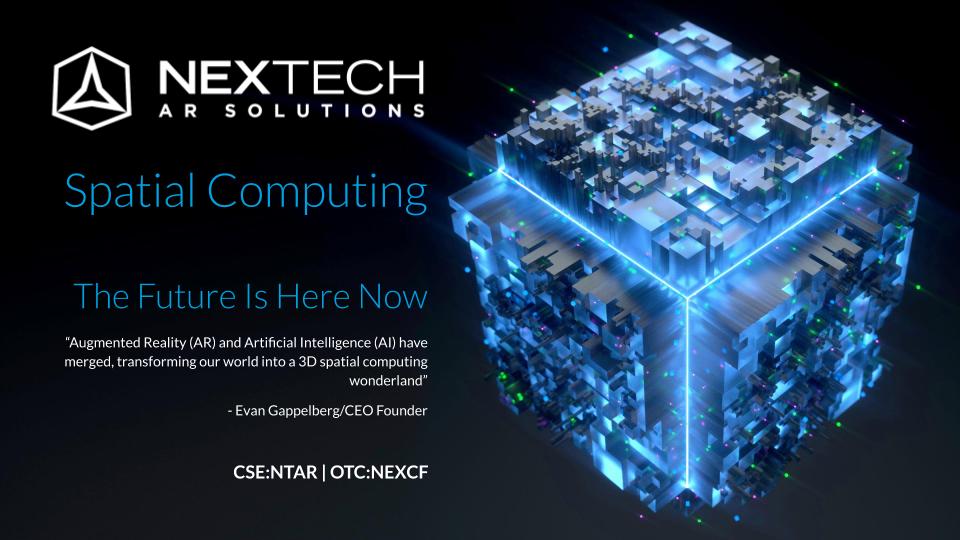 NOTE: NEXCF is no longer covered by Starwood Research. The subsequent stock price high after this report was published was $6.97. 
Analyst Notes
NexTech AR Solutions (OTC: NEXCF) (CSE: NTAR)
REVISED Upside Potential Target: US$20.00 (next 12 months.)
Current Stock Price: US$2.00 (January 28, 2020)
(Initial Discovery Report published: November 6, 2019 ($1.06) $5.00 upside target)
We are publishing this interim analyst note now, and anticipate publishing a full updated report on NEXCF in the next 10 days.
KEY POINTS:
AR/VR technology "Unicorn Farm" with multiple shots on goal/targeting five multi-billion dollar market opportunities.
NEXCF is at key inflection point – with multiple catalysts in 2020, for explosive revenue growth and billion-dollar value creation opportunities.
Unique alignment of value drivers/"X Factor" setting up potential for parabolic stock move to $20.
Analyst Note:
NEXCF stock has increased over 150% since we initiated coverage 11/6/2019, from $1.06 to a recent high of $2.54. 
We are now raising our Upside Potential Target price for NEXCF to $20.00 for next 12 months. (Increasing from original $5.00 Upside Potential Target as originally published 11/6/2019).
Since our initial report, less than 3 months ago, NEXCF has delivered strong results with rapidly increasing revenues. However, our key impetus for increasing the upside target to $20.00, is NEXCF's launch of three new AR initiatives – which we believe can be transformative for NEXCF's revenues and valuation of the stock, over the next 12 months:
1) ARitize 3D-AR-360 Ad Network: 3D ads / "conversational 3D-AR shopping experience" – potential game changer for the $200 billion+ online ad industry.
2) Capture AR 3D app: Smartphone based app for 3D asset capture – breakthrough technology which massively reduces time and cost to capture 3D images. Essential for "mainstreaming" AR.
 3) "V-Commerce": Disruptive VR technology aiming at transforming $3.7 trillion retail sector by offering shoppers immersive product experiences. 
NEXCF now boasts a unique combination of: multiple "Unicorn-potential" businesses – which are inside the emerging hot theme of Augmented Reality (Estimated to reach $120 billion in next 2 years, according to Statista). 
(A "Unicorn" is the VC term for a start-up valued at $1 billion.)
Another key factor for raising the upside target to $20.00 is the confluence of technical/X-factors, which we see as one of the key drivers behind the wild price swings in the stock in recent days. As NEXCF gains increasing investor awareness, with the market starting to discover the AR theme – (Emerging $120 billion market according to Statista) – and NEXCF being the only "pure play" stock – with multiple (billion dollar potential) shots on goal. In some investor circles, NEXCF is apparently being viewed as the "micro-cap version of TSLA".
As investors start to understand the full scope, and upside potential of each of the businesses in NEXCF's "AR portfolio" – this stock will become increasingly a "must own" for forward-thinking tech investors. Add in some FOMO/Momentum, and the fuse is lit for explosive upside potential. 
We believe these new factors, justify the case for a $20.00 upside potential for NEXCF over the next 12 months.
Investment Concept
NexTech AR Solutions Corp. (OTC: NEXCF) is an emerging leader in the rapidly growing Augmented Reality (AR) technologies space, estimated to hit $120 billion by 2022, according to Statista.  AR is acknowledged by tech experts, as the "the next big wave / mega-trend" in technology – which will impact our world much as the advent of the internet, or smart phones over recent years – becoming especially pervasive in e-commerce and advertising. 
NEXCF's technology platform – ARitize – helps companies create 3D, immersive experiences for e-commerce, education, entertainment, online advertising, and VR immersive experiences for "brick and mortar" retailers.
The "big idea" here is that NEXCF's AR and VR applications for commerce and online advertising are a potential game changer for these massive markets – because they help achieve the "holy grail": increasing sales –  while reducing product returns (for e-commerce this is a multi-billion dollar problem). 
In the case of NEXCF's 3D AR ad network: massively increasing engagement and click through rates with it's "Conversational 3D-AR shopping experience – which transforms display ads into immersive experiences with high conversion rates. 
Why is this a big deal? Because NEXCF's technologies can potentially help thousands of businesses worldwide increase their sales, and profits by billions of dollars. 
Let's look at the size of these addressable market opportunities:
– E-Commerce: $684 Billion
– Online Advertising: $200 Billion 
– Retail ("bricks and mortar"): $3 Trillion+
Because these numbers are so big – even marginal improvements in P&L, are worth billions.  As a result – start-up tech companies which demonstrate  solutions that "move the needle" for the P&L of it's customers – become extremely valuable "Unicorns" almost overnight.
It should be noted that NEXCF's AR verticals in Education and Entertainment also offer big potential, but we believe that B2B/commerce applications will have the most immediate traction in the next 12 months
"UNICORN FARM"
In this context, we can see NEXCF not just as an "AR play", but as a  veritable "Unicorn Farm" with multiple shots on goal at launching multi-billion dollar businesses.
NEXCF is now going after five verticals, but the core business revolving around optimizing e-commerce and "bricks and mortar" sales though AR/VR technology. 
NEXCF's tech offers the "holy grail" for e-commerce: increasing sales, decreasing product returns. A similar game changer is offered for "bricks and mortar" – offering immersive product experience, while maximizing revenue per square foot of (expensive) real estate. 
What makes NEXCF a compelling opportunity is that in today's market, every one of these 5 business lines – has the potential to achieve billion dollar valuations, if they gain meaningful traction.
ARitize 3D-AR-360 Ad Network:
Launching in Q1 2020, the ad network leverages NEXCF's current 3D asset creation technology and relationships into 3D-AR-360 ads, opening up a major new revenue channel in 2020 and beyond. 
The main benefits offered by NEXCF's 3D/AR ads is massively increased click rates and conversion rates versus the standard ads we see today. By initial estimates the click rates are expected to be 10X higher and conversion rates 400% higher. The type of performance is a game changer for the $200 billion+ (according to imarc data) online ad industry.
NEXCF also will be rolling out the first browser-based "conversational 3D-AR shopping experience" – which transforms display ads into immersive experiences – with live chat. NEXCF is partnering with LivePerson (NASDAQ: LPSN) to offer AI-powered chat that allows the person viewing this immersive ad to engage with "personal shopper" (AI or human) who answers any questions, makes suggestions – and then enables a credit purchase, seamlessly. (This must be seen to be properly understood, and we suggest viewing NEXCF's video's which demonstrate this application)
NEXCF's 3D ad network, could be transformational for the online advertising market.
A key point is that online advertising is highly-scalable. If NEXCF's 3D ad network, takes off, it can go from zero to $100 million revenues in 18-24 months. If advertisers see strong performance metrics, from NEXCF's 3D ads, the sky is the limit. 

Capture AR 3D App:
NEXCF has developed a new image capture technology which solves the key problem for AR – capturing the 3D assets. NEXCF's technology now allows 3D assets to be captured in less than 2 hours and can be done using a smart phone. 
Previously this process took days, and required expensive 3D capture equipment and production pipelines.
NEXCF has indicated that it will be offering it's Capture AR 3D as a smart phone which will soon be available for download on app stores. This breakthrough technology, levels the playing field, and allows for millions of potential users. Again, just like online advertising, smart phone apps are highly scalable, and can capture millions of users almost "overnight". 
NEXCF has not formally announced the Capture AR 3D app will be monetized, but there is talk of a monthly subscription fee. 
Assuming NEXCF charges $9.95 month, with 2 million users, this could be a $250 million year business.
But even if it gets just 100,000 users, this would be a business worth $100 million+  
Best of all, the synergies and leverage are obvious: all the app users become prime customers for NEXCF's 3D ad network and ARitize for e-commerce. 
VRitize / "V-Commerce":
NEXCF's latest initiative is "V-Commerce" which aims at transforming $3.7 trillion retail sector. 
V-commerce has been coined as a way to create virtual stores where a customer could choose and buy products virtually in 3D. VR in retail is predicted to reduce marketing costs, reduce product returns and offer efficient analytics and data which is very similar to the AR value proposition for E-commerce. 
With ARitize and now VRitize NexTech has positioned itself at the intersection and transformation of the entire $3.7 trillion dollar (Statista) retail ecosystem with the industries first state of the art one-stop E-commerce, V-commerce AR/VR solution.
While NEXCF's core business has been to help, consumers see and "try on" and buy products in their own environment on their smart phone – the new VRitize division will leverage the same 3D assets to be used for traditional "brick and mortar" retailers. 
The new VRitize platform will include an app for both iOS and Android, will work on most if not all VR headsets including Facebook's Oculus and will continue to leverage all current 3D asset creation technology.
NEXCF will offer these retailers "V-Commerce in a box", which will allow retailers to offer shoppers fully immersive new and exciting VR product experience for in-store retail. This could be a potential game changer for many aspects of the $3.7 trillion retail industry because VR now allows even the smallest retail location, to show shoppers an infinite number of products and product experiences on the VR goggles. 
As an example of a possible V-Commerce application – a brand like GE can show hundreds of SKU's of large kitchen appliances on a set of VR goggles – which in the real world would take up 10,000 square feet of (expensive) retail floor space. 
The benefits of NEXCF's V-Commerce  application for retailers is obvious: it creates massive leverage of their location by "virtually" expanding their sales floor to infinite potential. At the same time, VR creates exciting shopping experiences, and helps get consumers into the store (one of the key challenges in retail today). 
It's anticipated that NEXCF will be offering V-Commerce as a SaaS subscription service.
ARitize:
NEXCF's AR solution is a potential "game changer" for the $533 billion global e-commerce market, because it's been shown to increases in sales by as much as 400% by giving  consumers as close to a 'retail' experience as they can get. 
NEXCF's technology allows the consumer to "try it on" and see a product in immersive 3D Augmented Reality – and its size/fit/shape in their own environment – simply though their smart phone. 
Not only can NEXCF's technology increase sales revenue, it also creates cost savings because product returns drop off dramatically since consumers can see how the product actually looks on them, thorough AR. (Returns are a multi-billion dollar problem for e-commerce which NEXCF can help reduce dramatically.)
NEXCF business model is based on a SaaS (Software as a Service) recurring monthly revenue model, where customers pay $30/SKU each month. NEXCF potential market is the estimated 12 million e-commerce sites worldwide.  (Shopify (NYSE: SHOP) recently surpassed over 1 million e-commerce merchants on it's platform) Assuming NEXCF builds a modest customer base of just 8,000 e-commerce business, (that's less than 1% of Shopify's base), and assuming a modest 20 SKU's per customer, this could generate over $56 million in annual revenues. 
In the current market, SaaS stocks likes Salesforce (NYSE: CRM), Shopify (NYSE: SHOP) are trading at multiples of 10X revenues, and as much as 20X revenues in some cases. We can easily see a case where NEXCF could trade at 20X revenues, based on massive growth rates – where valuations are further amplified due to the AR premium. That would be over $16 per share (assuming 65 million shares out).
Compelling Business Model: NEXCF has a compelling business model, that any SaaS business (i.e. Salesforce (NYSE: CRM)) would envy: It's application is a business necessity, and it pays for itself by helping to increase revenues, and reduce costs, (which makes it a "no brainer" buying decision). Best of all it generates monthly recurring revenue, based on the number of SKU's on the platform. NEXCF charges a base rate of $30/SKU per month.  To get a sense of the size of this market opportunity, you need to ask what percentage of the likely billions of SKU's now sold online, could benefit from AR. 
Education Market: 
NEXCF is leveraging it's technology platform to also develop applications for the $170 billion education market with ARitize™ University which delivers rich, immersive educational experiences, and lesson plans delivered through volumetric 3D content. This application is proving specially popular for training in machinery repair, and other applications were 3D visual aids, can help explain complex objects, moving parts, etc.
Entertainment: 
NEXCF has assembled a team of entertainment industry visionaries to develop next-generation entertainment experiences using it AR platform. NEXCF's AR Studios in Hollywood, California is headed by Barry Sandrew, Ph.D, who is a visual effects (VFX) pioneer and inventor with over 34 patents and three decades of founding and successfully building and operating VFX production studios in Hollywood. He is the original inventor of digital colorization of black and white movies, as well as the inventor of one of the most sophisticated processes for converting 2D feature films to 3D. Sandrew worked on over 100 Hollywood feature films, Avatar, Titanic, Transformers etc. 
NEXCF's AR Studios initiative is producing immersive augmented reality content and applications for its proprietary location-based entertainment venue called Presence™.  This initiative is still in the early stages, but the technology has the potential to equal, or even eclipse NEXCF's other business segments.
AR-powered e-commerce: NEXCF generates the majority if its revenues right now via it's own e-commerce site network. (On January 7, 2020 NEXCF reported Revenue and Gross profit for the 4th quarter 2019 also accelerated rapidly reaching $2,580,000 and $1,340,000 respectively, which represents a 4390% increase in revenue and 2232% increase in gross profits year over year.)
The company has been opportunistically acquiring cash-flow generating e-commerce business in niches ranging from vacuum cleaners to pet nutrients, then improves revenues by adding it's AR technologies suite.  The revenues generated by these businesses support NEXCF's ongoing technology development, while showcasing the , and serving as a real-world demo of the AR technology for new clients. 
Management has indicated that the e-commerce businesses will be spun-off, as the core AR business reaches critical mass.
While these revenue numbers are impressive, we do not take them into consideration in our assessment of NEXCF upside potential.
It should be noted that our upside potential price targets are based only on NEXCF's ARitize for e-commerce SaaS revenues, and do not include the significant upside potential of the other business lines such as, education, advertising, entertainment, or the AR-powered e-commerce business.
Market Opportunity:
AR is a real "Game Changer" for e-commerce. The transaction volume of goods bought through or influenced by AR was just $14.2 million in 2018 – but is expected to grow to $12.7 billion by 2023 (a compound annual growth rate of 289% per year.), according to ARtillary Intelligence. 
Gartner reports 100 million consumers will shop in Augmented Reality online and in-store by 2020. In a survey 46% of retailers said they planned to deploy either AR or VR solutions by 2020
Statista estimates the Augmented Reality (AR) technologies space, will total an estimated $120 billion by 2022, as brands like Apple, Google, Microsoft, Samsung, Snap and Amazon pour billions into new applications and devices which will make AR pervasive. Expanding roll-out of 5G bandwidth will further push AR adoption rates for mobile devices.
According to Statista, the global online fashion market was worth $533 billion in 2018, and is predicted to grow to $872bn by 2023. In 2018, apparel accounted for 65% of the market, followed by footwear (25%) and bags and accessories (10%). NEXCF's AR powers "try it on" technology can have a significant impact on this market.
"The Tesla and Elon Musk of Micro-Cap"
We'll now address one of the most compelling aspects of NEXCF for investors today…
NEXCF stock is starting to gain increasing traction and investor awareness, as investors discover the AR theme, and the volatile stock is seen as a "micro-cap TSLA". 
Another common denominator with TSLA, is NEXCF's charismatic CEO who brings to the table a successful track record in creating shareholder value, who has a big vision – and excels at sharing this with investors.  (This is an essential requirement for big sustainable stock moves)
The stock has captured the imagination of speculative traders, as can be seen by the recent trading action. A look at NEXCF stock chart clearly shows the stock reacting strongly to any positive news, with parabolic price jumps on high volume. This is often followed by profit taking sell-offs. For better or worse, NEXCF is becoming a trading vehicle, akin to a micro-cap version of TSLA. 
Even with all this, NEXCF is still completely undiscovered by mainstream investors. Because the company's main listing is on the tiny the Canadian Securities Exchange 
(CSE: NTAR), the stock is still "off the radar".  An up-listing to NASDAQ would change this scenario overnight, and this could be a possibility in the next 6-9 months.
We believe the "X-Factor" in the NEXCF upside story is CEO Evan Gappelberg. The one common denominator of every 10X-100X investing success story is a great leader with a grand vision, who excels at sharing that vision with investors – and also executes. 
NEXCF CEO Gappelberg has repeatedly stated his mission is "making NEXCF a "billion dollar company". (For anybody doing the math, that would make NEXCF about $18 based on 60 million shares out). This kind of "Big Thinking" is exactly the point of investing in micro-caps. For investors who are looking for a "moonshot" 10X+ opportunity, NEXCF is a compelling proposition. 
Gappelberg has a proven track record of creating shareholder value, and making his investors money (unlike most companies in the micro-cap space!). Evan's most recent exit delivered a 20X return for his investors. In his 20+ year Wall Street career, Evan has a track record of spotting tech trends early and delivering massive returns for investors. Evan was an early investor and raised capital for Take Two Interactive (NASDAQ: TTWO) when the video game company had only a $30 mil market cap (now $14 BILLION – a 47,000% increase.). In the same way, Evan now sees AR and NEXCF as the next big winner. 
This type of leadership is critical for getting investors excited about a stock, which then helps bring in capital – and even more importantly, attract key talent. Especially in today's competitive tech market, hiring top engineering talent is one of the biggest constraints of growth. It certainly helps to have a charismatic CEO, and a soaring stock price, when recruiting team members needed to build out major tech initiatives, as NEXCF is doing.
Most importantly Evan and NEXCF's leadership is aligned with investors, and own 30% of the shares, taking most of their salary in NEXCF shares. This indicates leadership is committed to creating sustainable shareholder value, and in oil for the long run. 
Potential Upside Stock Catalysts:
Upside surprise (adoption rate, revenues from adtech etc). At this point investor expectations of NEXCF are driven by sentiment. However if NEXCF surprises with traction in Ad network other areas – it could be a game change for the stock.
VR/AR theme momentum: New Apple/Facebook AR/VR product launches launch, or hot AR/VR IPO
Potential M&A? NEXCF's increasing market value presents opportunities for the company to use stock as an acquisition currency. This could be used for opportunistic acquisition of AR business, ad networks, or v-commerce, which can help supercharge NEXCF's businesses with synergy and leverage. Management has not discussed M&A possibilities yet, but this could be on the agenda, if valuation ticks up north of $500 million
With multiple catalysts in place, NEXCF is in a unique set-up where any significant upside development, or string of positive news announcements could easily propel the stock to $10.00 overnight purely based on momentum and FOMO.
Because NEXCF is the only "pure play" stock positioned in the $120 billion AR mega-trend, once this theme gets mainstream investor attention – NEXCF could go parabolic.
We address this issue straight-on because we assume the readers of this research report are experienced speculators seeking exponential gains, and comfortable with risk. And NEXCF is certainly a high-risk venture capital-style investment ("Not for widows and orphans"). This means our target audience is clearly familiar with the idea of riding massive momentum waves – the "holy grail" of micro-cap investors – FOMO-driven parabolic moves which rocket 20-100X. Today's market is fertile ground for these type of market moves, as we have seen with recent hot themes such as cannabis stocks in the past few years.
Risk Factors:
NEXCF as with most emerging growth companies faces numerous risk factors, including competition, need for additional financing, execution risks, technology risks, and more. This is clearly a highly speculative opportunity, and should only be considered by investors comfortable with a high degree of risk. Please refer only to company filings to obtain complete and recent data to support your investment decisions.