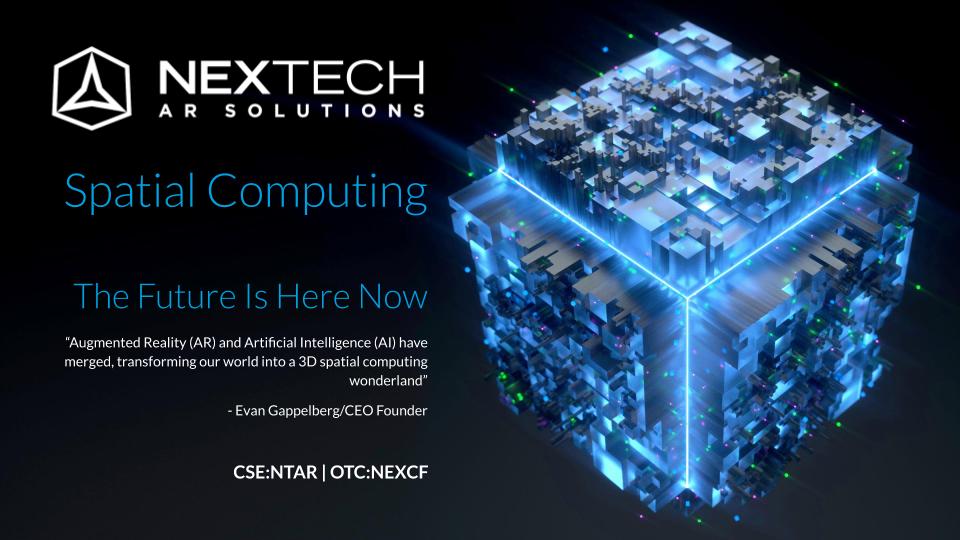 Analyst Notes
NexTech AR Solutions (OTC: NEXCF) (CSE: NTAR)
REVISED Upside Potential Target: US$20.00 (next 12 months.)
Current Stock Price: US$2.00 (January 28, 2020)
(Initial Discovery Report published: November 6, 2019 ($1.06) $5.00 upside target)
We are publishing this interim analyst note now, and anticipate publishing a full updated report on NEXCF in the next 10 days.
KEY POINTS:
AR/VR technology "Unicorn Farm" with multiple shots on goal/targeting five multi-billion dollar market opportunities.
NEXCF is at key inflection point – with multiple catalysts in 2020, for explosive revenue growth and billion-dollar value creation opportunities.
Unique alignment of value drivers/"X Factor" setting up potential for parabolic stock move to $20.
Analyst Note:
NEXCF stock has increased over 150% since we initiated coverage 11/6/2019, from $1.06 to a recent high of $2.54. 
We are now raising our Upside Potential Target price for NEXCF to $20.00 for next 12 months. (Increasing from original $5.00 Upside Potential Target as originally published 11/6/2019).
Since our initial report, less than 3 months ago, NEXCF has delivered strong results with rapidly increasing revenues. However, our key impetus for increasing the upside target to $20.00, is NEXCF's launch of three new AR initiatives – which we believe can … Read the rest